Description
Our aim is to empower women to feel, and be the very best at any age of their lives. WOMA+ will help you feel like a goddess again.
WOMA+ is formulated to help women maintain vaginal tightness, dryness, and elasticity. Other clinical report results includes slowing down menopause, reducing PMS, preventing UTI, yeast infections, regulating menses cycles, skin whitening, protection from UV damage, and anti-aging. Our ingredients are natural and exclusive to WOMA+ suitable for a wide range of ages including breastfeeding mummies. 
1 box for $88
2 boxes for $168 (SAVE $8)
4 boxes for $298 (SAVE $54)
6 boxes for $398 (SAVE $130)
Each box has 20 sachets for 20 days supply! Recommended to take 2 sachets for optimal results. Take 1 before meal in the morning and 1 at bedtime. However, if you're prone to gastric problems, we'll advise to take it after meal.
Based on 2 sachets a day, 3 boxes is for one month supply.
🔥 10 Powerful Features 🔥
🌟 Regulate Menses & Hormones
🌟 Prevent UTI & Yeast Infections
🌟 Improve and detox Uterus Health
🌟 Relieve PMS symptoms
🌟 Tighten Vaginal & Increase Arousal Fluid
🌟 Improve the Endocrine System
🌟 Relieve & Delay Menopause Symptoms
🌟 Skin Whitening & Improve Uneven Skin Tone
🌟 Acne Control
🌟 Remove Wrinkles, Fine Lines, Lighten Spots, Freckles & Dark Spots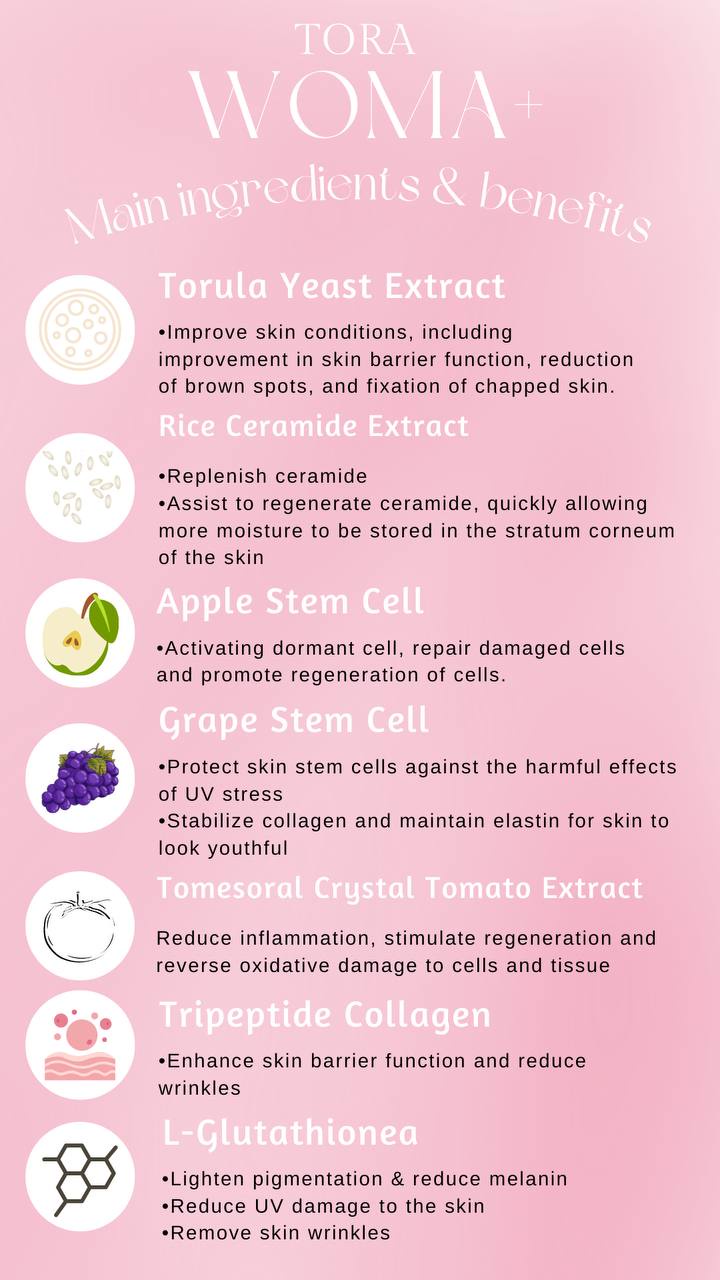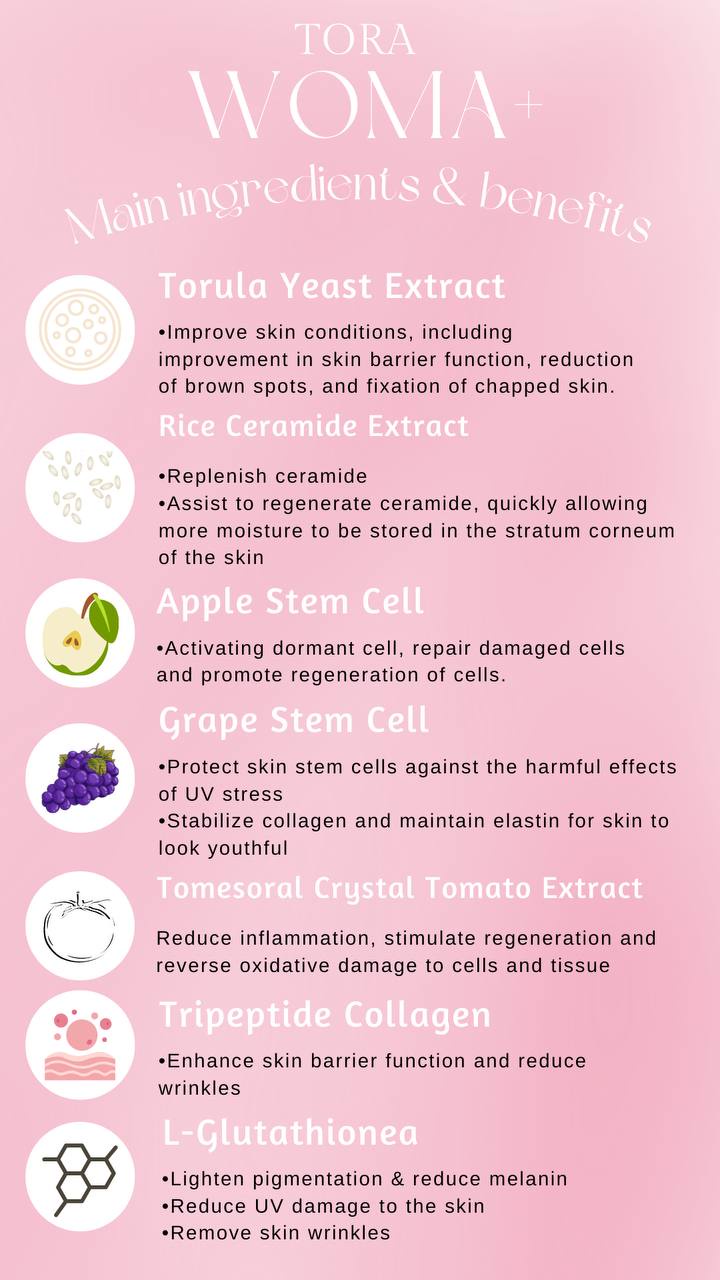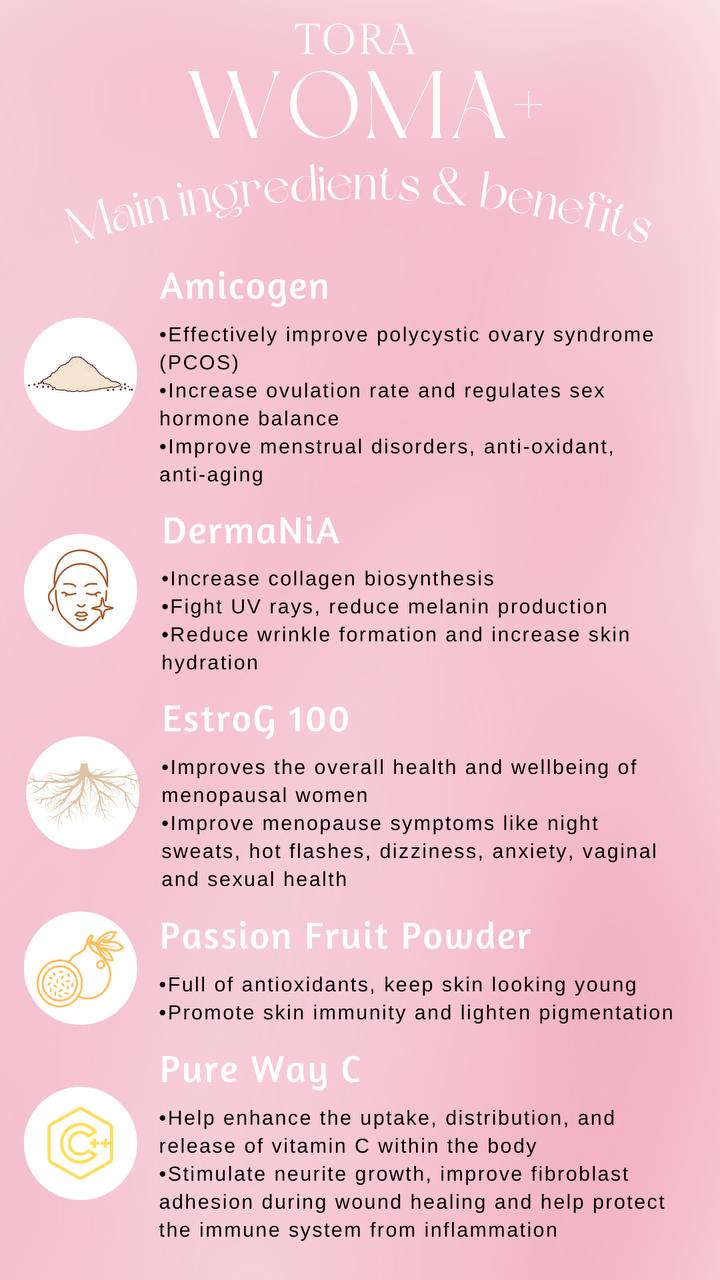 ❓ FAQ❓
1. What is the recommended daily dosage?
It is recommended to take once or twice a day before meal. However, it is more advisable to consume it after meal if you have gastric problem. Consume 2 sachets for optimal result.
2. When can I see results?
Results can be seen in 2-4 weeks. Our skin life cycle is 4 weeks (28 days)
3. Is Woma+ suitable for breastfeeding or pregnant ladies?
Yes, as Woma+ ingredients are all natural, it is safe for breastfeeding and pregnant mummies to consume. However, it is advisable to not consume any products during the first trimester or until the fetus is stabilized. Please consult your gynaecologist for advise.
4. Can I consume Woma+ with other supplements?
Yes, but stagger the consumption timing.
For other supplements: 30 mins apart
For medication: 2 hours apart
5. Is Woma+ suitable for diabetic patients?
Yes, Woma+ is made with low to medium glycemic index and all natural ingredient hence it is suitable.
6. Does Woma+ cater to vegan?
No, as Woma+ contains marine collagen.
7. Is Woma+ suitable for patients with heart condition/taking medication?
Despite Woma+ being all natural, it is more advisable to consult your physician before consuming.
8. What's the recommended age to start Woma+?
Ladies who begin menstruation and women who are dealing with menopause are advised to take WOMA+.
9. Can men consume Woma+?
Men can consume Woma+ too! However, it will only be targeted to improve their skin, hair & scalp.
10. How to consume Woma+ effectively?
For best result, 1 sachet in the morning on empty stomach and 1 sachet at night before sleep. For consumers with gastric issue, take it 30 mins after breakfast.